On this Project in Sutton, the Client Nicola  and Architect Paul O'Loughlin, requested a Steel framed Stairs to fit into a confined Stairwell while allowing enough space behind for a generous Bathroom. Combined with Headroom requirements at Roof and 1st floor, the options reduced to a semi -spiral top half with flared lower straight flight and an oval bottom tread platform.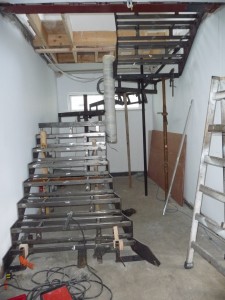 The Steel frame was to be Clad in Marble other than a Stainless Steel Central Column which was suspended in mid-air and supported by horizontal connections at step levels 8 and 13, effectively forming a Z Beam. 
 The remaing Steel structure was clad with Creme Marfil Marble while the Balustrade was formed with Curved 15 mm Toughened Glass, Cantilevered from the frame using Stainless Steel Disc 'thru Clamps'.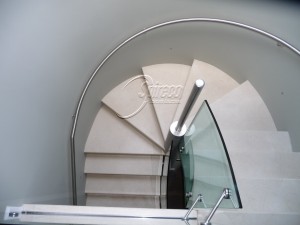 A part Spiral Stainless Steel Handrail was mounted to the curved wall and a frameless Glass Balustrade was provided to the landing using the Stainless Steel 'spider clamp' principle.